Description
Lightshare16Inch 36LED Cherry Blossom Bonsai Light, Warm White Light, Battery Powered and Plug-in Adapter (not included), Built-in timer, Décor for Home/Festival/Party/Christmas/Night Light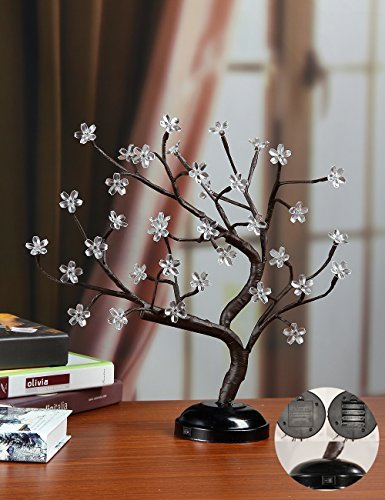 The cherry blossom flower bonsai comes with 36LED light with 16 inch height, warm white LED light. This attractive appearance fits for table, bar, night light, both for summer and Christmas, each-day and holiday, all the time bring you the Hawaii happiness..
KEY FEATURES
4AA batteries are required to use the battery-operated feature (not included), or 6V DC 3.6W power adapter as an option (the power adapter isn't included but may also be ordered from Lightshare, search B01FJJ44EE on Amazon to purchase)
The water resistant iron base even make it ideal for outside use such as garden, pool deck table (but adapter is indoor use designed)
Built-in 24-hour timer operates 6 hours on, 18 hours off. Please note, when converting the power options between batteries powered and electricity, the timer will be reset.
It is easy to install and totally portable. It is designed or used for multi-purposes, much suitable for fireplace, dinner table, and bedroom as a night light. And it may be used along with the other lighting decoration to build romantic and sweet atmosphere in living room, workplace, hotel, bar, and the like.
Handmade excellent quality at inexpensive price
BEST LIFETIME & 100% 30 DAYS SATISFACTION GUARANTEE
We are dedicated to your satisfaction. Shop with confidence!
16 Inch 36LED cherry blossom bonsai tree,warm white light clear flower
Battery operated with plug-in electric option: 4AA batteries or 6V DC 3.6W adaptor required (not included, search B01FJJ44EE on Amazon to purchase 6V DC adapter)
Timer automatically 6 hours on/18 hours off. (will reset timer function when change the power supply between battery and adapter)
Both indoor and outside use (adapter is only for indoor use)
Attractive appearance suits for bar,table,room,also a good night light